MEDIA STORIES
Chronic neurological dysfunction produced by stroke and acute brain injury has long been thought to be irreversible. A new scientific discovery by the INR, as documented in the stories below, now promises to change current thinking about the potential for recovery of function, even years after the acute event. Disclaimer: Individual results vary, not all patients respond. Additional doses may be necessary to maintain the clinical response. Treatment for these indications is innovative ("off-label"). Please see the Terms of Use. The method of off-label  treatment utilized is a patented invention of the INR. Rapid neurological improvement after treatment at the INR® has been documented in multiple media stories, including the following:
1. London Press reports on treatment of Andrew Marr by Dr. Tobinick, January 21, 2017:
"Marr's mini miracle: After a stroke left him partially paralysed, Andrew Marr feared he'd never walk normally again. Then a US doctor turned him upside-down – and, as he movingly reveals, it's sent his spirits soaring."
Andrew Marr at the INR in Boca Raton, Florida:

---
2. Channel 7 National News, Australia, "Sunday Night", March 29, 2015. "The New Stroke Treatment That's Changing Lives", Reporter: Chris Bath / Producer: Penny McWhirter:
---
3. 60 Minutes Australia, Feature story, Reporter: Michael Usher
Published, peer-reviewed scientific article:
---
4. "Local women talk stroke recovery", photo by Michelle Raspberry, special to the Daily Dunlin Democrat, February 17, 2013: The newspaper story about two women from the same Missouri town treated at the INR PLLC in Boca Raton, begins: "Jan Sanders, left, and Mary Jean Moore, right, recently shared stories about their life changing procedure that is helping them in their recovery from strokes."
The full story can be downloaded here: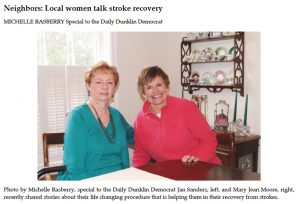 ---
5. June 26, 2015: "Family campaigns for stroke treatment in Australia", reporter Meghan Harris for The Chronicle:
"Last year Mr Shepherd and his family flew to Los Angeles to undergo a revolutionary reverse stroke treatment … ".
The full story can be downloaded here: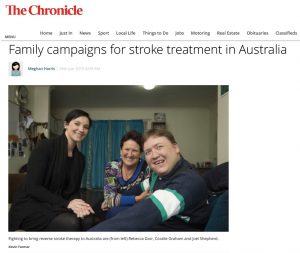 ---
6. June 11, 2013: "The road back", State Gazette.
The full story can be downloaded here: